On a site that has been with the Big Bear community since the 1920's when the Stillwell's opened their first restaurant, The Pines Lakefront brings back a location that has its roots directly tied to the lake. With a commanding view of the lake and surrounding mountains, the diner can relax on the new garden patio area with its shade pergola that affords an unobstructed view of the lake while shielding the tables from the hot summer sun. With the addition of fencing and a glass windscreen, the patio becomes a very cozy spot to enjoy the offerings from the kitchen and bar.
The interior has been completely redecorated and offers a certain charm with its natural open beam ceiling, a luxurious carpet in the dining room and wood floors around the bar area. The booths now sit on a riser and are toward the back of the dining area to allow an ample view for all the tables. Boasting the smallest "ballroom" on the mountain, the Captain's Table fills that space and makes for a festive setting. The décor fits the mountain of the thirties and forties, and brings back fond memories of the "good old days," especially listening to our live piano.
Our kitchen serves a varied menu including Black Angus beef, Midwestern pork, poultry, fish, seafood and an assortment of game including venison, wild boar and elk. Homemade soups and great salads are all served with artisan breads and homemade butter. For many, a good meal pales without a fine wine, and we have a wonderful cellar stocked with some of the great wines of the world.
With the pending addition of new docks and a large gazebo structure on the south side of our building, we can offer a great lake view site for weddings and community events. Come see what the buzz is all about!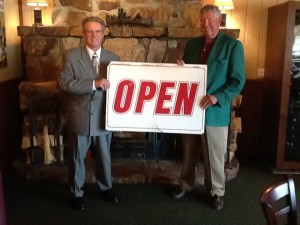 Your hosts – Dr. Jerry Lemke and John Isaksen
P.S. Don't forget our catered take out menu, and
also our exclusive individual Pines Lakefront Picnic
Basket for your Big Bear Lake sightseeing excursions